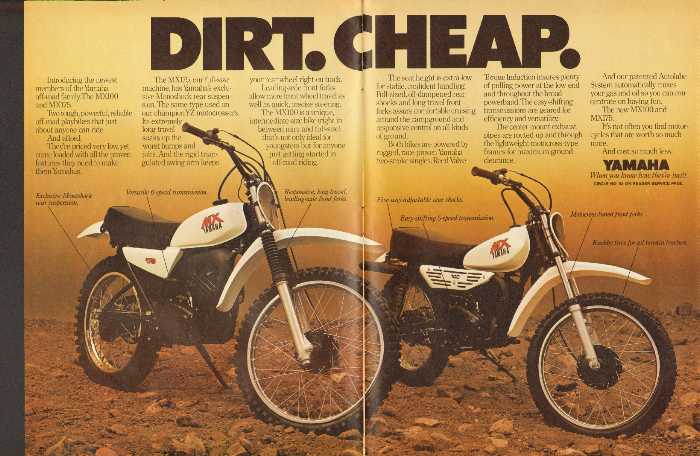 Dad's Vintage Motorcycle Ad of the Day
Ad Publication Date: 1979
Ad Title: Dirt Cheap. Yamaha MX100 and MX175
Text of Ad:
Dirt. Cheap.
Introducing the newest members of the Yamaha off-road family. The MX100 and MX175.
Two tough, powerful, reliable off-road playbikes that just about anyone can ride.
And Afford.
They're priced very low, yet come loaded with all the proven features they need to make them Yamahas.
The MX175, our full-size machine, has Yamaha's exclusive Monoshock rear suspension. The same type used on our champion YZ motocrossers. Its extremely long travel soaks up the worst bumps and jolts. And the rigid triangulated swing arm keeps your rear wheel right on track.
Leading-axle front forks allow more front wheel travel as well as quick, precise steering.
The MX100 is a unique, intermediate-size bike (right in between mini and full-size) that's not only ideal for youngsters but for anyone just getting started in off-road riding.
The seat height is extra-low for stable, confident handling. Full-sized, oil-dampened rear shocks and long-travel front forks assure comfortable cruising around the campground and responsive control on all kinds of ground.
Both bikes are powered by rugged, race-proven Yamaha two-stroke singles. Reed Valve Torque Induction insures plenty of pulling power at the low end and throughout the broad powerband. The easy-shifting transmissions are geared for efficiency and versatility.
The center mount exhaust pipes are routed up and through the lightweight motocross-type frames for maximum ground clearance.
And our patented Autolube System automatically mixes your gas and oil so you can concentrate on having fun.
The new MX100 and MX175.
It's not often you find motorcycles that are worth so much more.
And cost so much less.
Yamaha - When you know how they're built.
Exclusive Monoshock rear suspension.
Versatile 6-speed transmission.
Responsive, long-travel, leading-axle front forks.
Five-way adjustable rear shocks.
Easy-shifting 5-speed transmission.
Motocross-tuned front forks.
Knobby tires for all-terrain traction.
1979 Dirt. Cheap. Yamaha MX100 and MX175 Vintage Ad available at
www.DadsVintageAds.com
Search our
Magazine Back Issue Index
for old Motorcycle Magazine Back Issues for sale.
To search our full inventory of Vintage Motorcycle Advertisements, Articles, and Road Tests
CLICK HERE.